Ping Carbonated Pre-Workout Can x24 + 8 Assorted Raze Cans
PING Carbonated Pre-Workout Can x24 + 8 Assorted Raze Cans
Xplosiv PING Energy Drink 
Are you ready to start PING-ING? NZ's hottest new RTD Pre-Workout!
After 10 years of powering 10s of millions(!) of Kiwi workouts, we've crafted PING - the ultimate solution to save you from workout mediocrity! Now available!

PING is designed to deliver your body the focus and energy you need to unlock the SUPERCHARGED workouts you've always dreamed of!

PING has been formulated from research and insight provided from a decade of Xplosiv fueling 10s of millions of Kiwi workouts. We know which flavours and cutting-edge ingredients deliver the best results, and have been passionately devoting our expertise to develop 4 delicious, ZERO-SUGAR flavours:

• BLIZZARD - Blueberry Lemonade!
• TROPICANA - Tropical Punch!
• ELECTRIC FIZZ - Lemon & Lime!
• TIKI PUNCH  - Pineapple!

Each flavour contains a potent, efficient mixture of powerful active ingredients, such as Beta-Alanine, Citrulline, Tyrosine, Caffeine, Vitamin B12 and Niacin - to help you quickly, sustainably unlock the focus and energy required for any high-intensity workout!
Why choose PING:
Laser-like mental clarity & focus, and heightened mood.
Enhance your muscle-building capability with increased blood flow to the muscles.
Fast, effective nutrient absorption
READY to sharpen your focus, deepen your dedication, and unlock extreme energy? Our expertly crafted blend will help you unleash your full workout potential to chase your fitness goals!
Not for the faint of heart! Get PING from Xplosiv today and get ready to PING!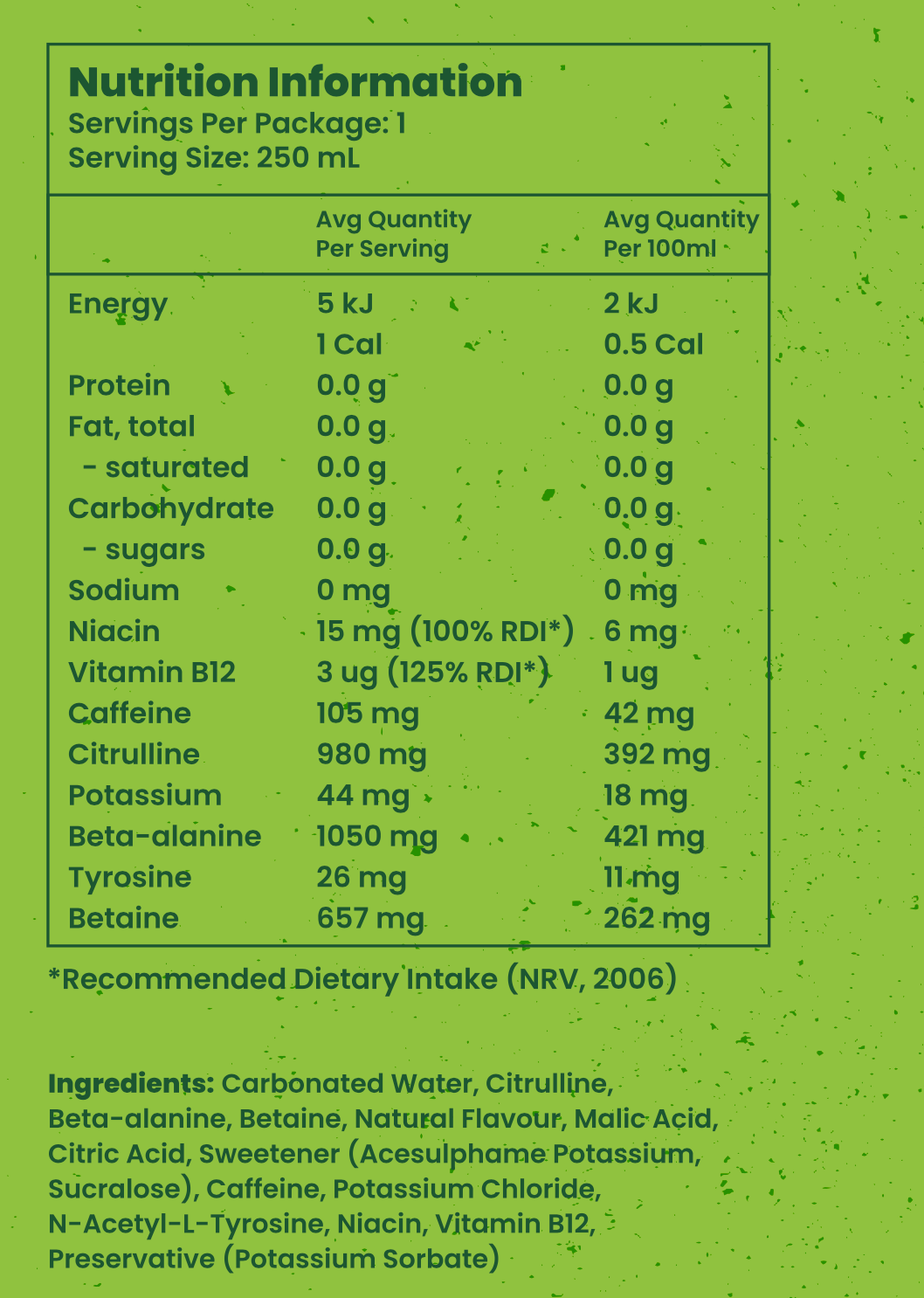 RAZE Energy Drink 
12 PACK
HYDRATING ENERGY†
RAPID RESTORATIVE RECOVERY†
INTENSIFIED STAMINA†
RAZOR SHARP MENTAL FOCUS†
NO CRASH AT ALL!†
ZERO SUGAR†
RAZE ENERGY TAKES A GIANT LEAP OF FAITH WITH INSTILLING A HIGH QUALITY FORMULA TO BRING THE CONSUMER A POWERFUL YET SUSTAINED, ENERGETIC EXPERIENCE TO HELP PUSH YOUR WORKOUTS AND FOCUS IN GENERAL TO THE VERY NEXT LEVEL. PERFECT FOR ANYONE AT ANYTIME, RAZE ENERGY HAS BECOME THE MOST POPULAR AND BEST RATED ENERGY DRINK ON THE MARKET TO DATE WITH A PHENOMENAL FLAVOR PROFILE THAT PUTS MOST COMPETITORS TO SHAME.
WHEN FORMULATING, WE WANTED TO BRING IN A MAJOR ELEMENT TO HELP REDUCE THE DREADED CRASH COMMONLY ASSOCIATED WITH MOST ENERGY DRINKS. WE OPTED FOR A FAST ACTING ENERGY BASE WITH CAFFEINE ANHYDROUS AND ROUDED IT OUT WITH REFRESH TECHNOLOGY TO HELP SUPPORT ADVANCED HYDRATION AND RECOVERY.
FREQUENTLY ASKED QUESTIONS
HOW MUCH CAFFEINE?

– 300MG OF CAFFEINE PER CAN

WHEN CAN I TAKE THIS?

– PRE-WORKOUT OR DURING THE DAY

HOW MANY FLAVORS ARE THERE?

– THERE ARE CURRENTLY 11 FLAVORS 

IS THERE ANY SUGAR?

– RAZE ENERGY CONTAINS ZERO SUGAR