Trip Nutrition Whey Protein 5lb + Creatine + Pre-Workout Combo
Trip Nutrition Whey Protein 5lb + Creatine + Pre-Workout Combo
TRIP Nutrition Whey Protein 5lb 
Introducing Trip Nutrition - affordable protein that doesn't skimp on quality!
Trip Nutrition's FUEL is comprised of premium grass-fed whey and contains ZERO artificial flavours or preservatives. FUEL your body with a formidable 21g of protein per serving to meet the demands of your training and chase your fitness goals. Rest assured that this delicious, nutritionally sound formulation delivers fantastic value for money with high-quality ingredients!
Convenience, Quality and Value!
Trip Nutrition's FUEL is the ultimate mix of quality, convenience and value - making it perfect for shakes to be used by everyday Kiwis looking to supplement their protein intake with tasty, high calibre whey. FUEL assists the growth and maintenance of your muscle mass while limiting carb intake, in order to maximally stimulate the process of muscle protein synthesis in your body. Regardless of your fitness goal, Trip Nutrition is confident in providing the FUEL to help you reach it!
As we lead increasingly busy lives, high quality FUEL is becoming a necessity. While most leading protein brand are composed of dozens of complex ingredients, Trip Nutrition has focused whole-heartedly on delivering the ingredients that matter most - with no BS. With just 4(!) ingredient, you can be confident in consuming only the purest and most potent essentials to supplement your nutritional intake.
Trip Nutrition recommends you take advantage of the fast-absorption of FUEL, and consume your shake within an hour of exercise. Otherwise, you can ensure that 'Muscle Protein Synthesis' is being maximally stimulated throughout the day by consuming your Trip Nutrition FUEL throughout.
Why should you try FUEL by Trip Nutrition?
Trip Nutrition's team have formulated the FUEL's whey blend to suit the requirements of everyday athletes and hardcore gym-junkies alike. The development of a pure, no-BS whey protein powder with a strong amino acid profile has been a high priority from the outset, with each scoop providing 21g of premium quality whey protein to assist with muscle growth and recovery.
Experience the serious blend of ingredient quality, value for money and taste with Trip Nutrition's FUEL whey protein - and charge towards your fitness goals without the use of any artificial flavours or preservatives
Mutant Madness Pre-Workout 30 Serve 
New look! Same high-intensity formula — now even better tasting!
Six premium flavors including new Sweet Iced Tea!
Pre-workout energy, power, focus and intensity to spare!
Sugar free always. Boosts energy, elevates nitric oxide, improves performance, and reduces fatigue. Non-habit-forming.
MUTANT MADNESS seizes the pre-workout experience and launches it into the stratosphere! This extra premium formula will jolt your senses and help fight fatigue. Crazy pumps, razor sharp focus, and blistering intensity await you, in SIX insane flavors. We warn you — read the entire label first before trying — MUTANT MADNESS must be used responsibly!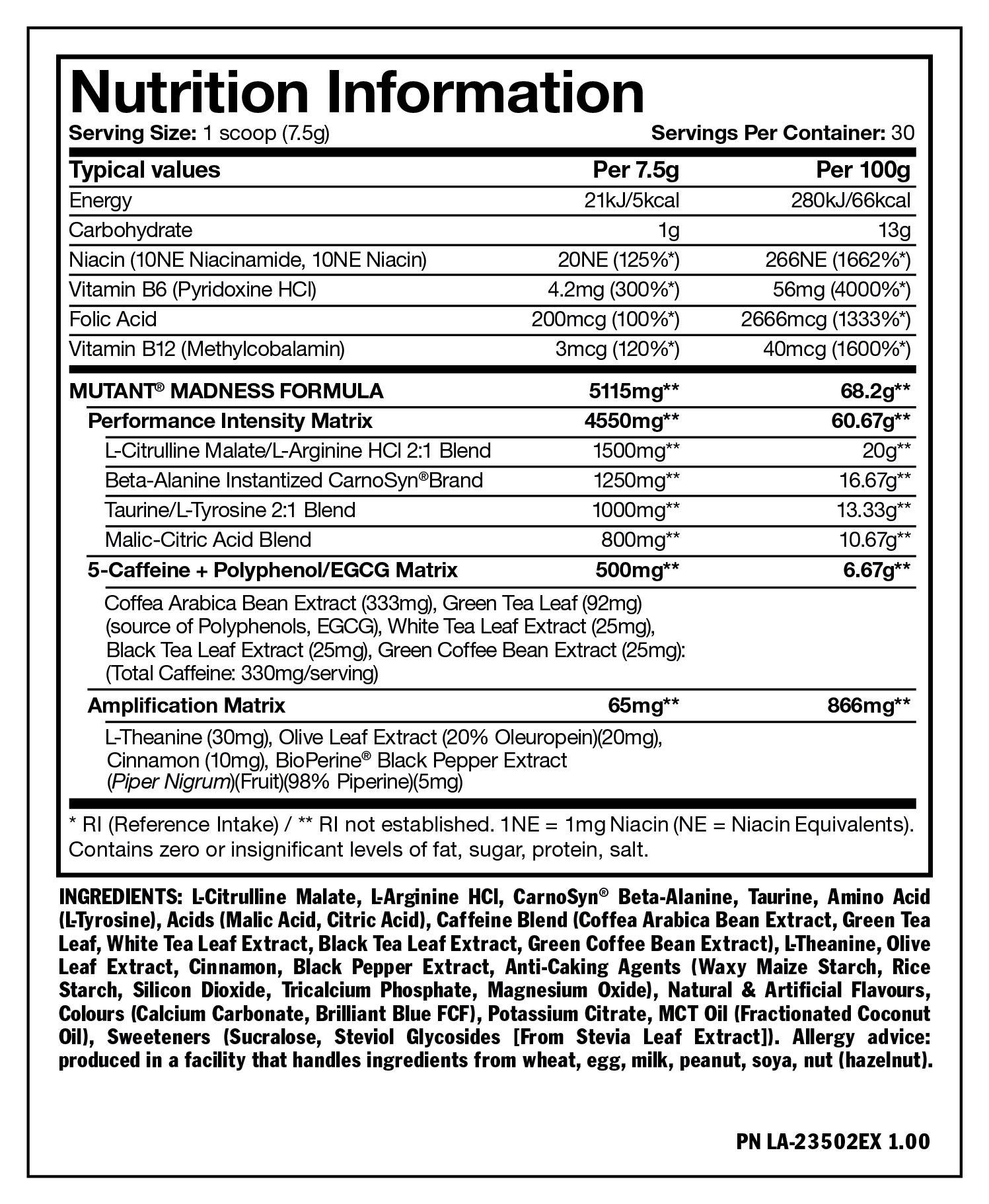 Muscletech Pro Series CREACORE Creatine 50 Serve

Scientifically researched, ultra-pure, concentrated creatine

Creatine is the most researched and still one of the most talked about supplements today – over 20 years after it was first introduced to the market! in fact, out of every supplement in sports nutrition history, it's likely that bodybuilders and other athletes have made more gains from creatine than nearly every other supplement combined. it's the perfect performance and strength supplement for competitive and tested athletes, and is so essential it should be used by everyone looking to build more muscle or increase sports performance. there's no doubt, if you're not using creatine, you're leaving gains on the table!


How creacore works

Creatine hydrochloride (hcl)

Creatine has been scientifically researched to amplify gains in lean muscle size and strength.

Creatine rapidly enhances your muscle cells' ability to regenerate adenosine triphosphate (atp). atp is your primary source of anaerobic energy, so you can recover faster between sets. during high-intensity training, atp from muscle stores is utilized first. once this store has been diminished, you need to start generating your own atp. at high intensities of exercise, this atp production occurs with the breakdown of phosphocreatine in your muscles.

As we only have a set amount of creatine in our muscles, this method of atp production runs out rather fast too – and results in fatigue and, eventually, muscle failure. that's where the creatine in creacore® comes into play. the powerful creatine molecules in creacore are changed into a molecule called phosphocreatine, which serves as a storage reservoir for regenerating atp. with higher atp levels, you'll be able to train harder and recover faster, and that means bigger and stronger gains!

Each serving of creacore delivers 750mg of 100% ultra-pure, laboratory-tested creatine hcl. creatine hcl is a cutting-edge, potent form of creatine with unique solubility properties that you'll notice the very first time you mix a delicious serving of creacore in water. it mixes almost instantly with no sedimentation, so no particles are sitting in the bottom of the glass. with creacore, you get high-quality, 100% ultra-pure creatine hcl with absolutely zero fillers, sugar or fat.



- 750mg creatine hcl
• Builds strength, power & lean muscle
• Enhances muscle performance & endurance